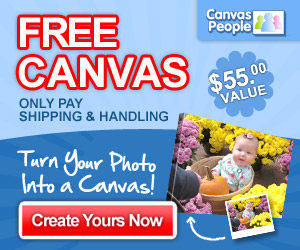 Go here to get your Free Canvas
An 8x10...however if you want a larger Canvas, you can apply the $55 credit towards the price of the larger one. This is a great grandparents gift. I think this along with a little picture stand...you can get at dollar tree...your family will think you spent a lot more! I will post mine when I get it in. I just got the free one+shipping and handling of course(For me was $5.67) I want the 8x10 so it can sit table top on a stand. If I were getting it for the wall or over the fireplace, I will get a larger one.
Go here to upload your photo.
~Wendy