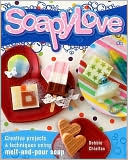 This book is just $17.09 at
Barnes and Noble.
When I saw this book I thought of all the fun a family could have making soaps and what a great deal...forever gifts! For birthday parties and Christmas, you could give homemade soaps! And the fun with your family is the best part! Here is the Write up the book has...
Melt & Pour and so much more! Soapylove shows you how to turn a glycerin melt-and-pour soap base into tempting, stylish soaps. You'll learn fun and easy techniques for 25 yummy projects featuring bright colors, amazing designs and delicious scents.Glycerin melt-and-pour soap is very easy to use-a microwave or stovetop is all you need! There is no messy boiling or complicated mixing.Techniques not yet found in any glycerin soap project book, including how to make cameos, plaid patterns, soap pops and even jelly donut soaps.The ins and outs of melt-and-pour soap supplies, allowing you to experiment with your own style.So come on in and start creating-you're bound to 'Feel the love!'
I think it is cool...If you are interested in this book...head over here to BarnesandNoble.com
And hey its a good way to have sweets around the house that won't affect our waistline...HaHa!!
~Wendy