Awww now this is sweet, This makes me think of the magic of Christmas! My kids for years received letters from Santa-A sweet man who came to our neighborhood Christmas party. It is the joyous time to see them get the letter! He would always give them a candy cane and Mrs Claus would be so sweet! He rides up on a firetruck every year and even stops and certain houses if they see kids!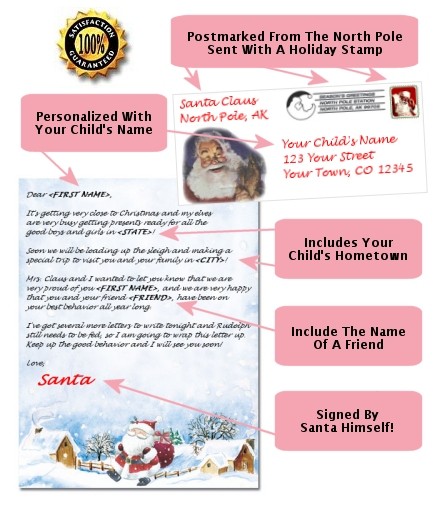 It looks like you can add the name of their home town and one of their friends names also-I love it!
**When head over to the website scroll to the bottom and click in the area that says "How many letters do you need" If you check 1 letter-The price changes from 19.99 for a package to just 9.99. Which at first I thought was expensive, but considering they are mailing it from the north pole and the Santa stationery...Its a pretty good deal. They also have add ons that are pretty cute and convincing...a Santa list with your child's name on it and a "Good Girl" Or "Good Boy" Certificate. Cute huh...those are extra, but I love the idea of it since kids will definitely think it is authentic, because of the postmark:) They do need to be ordered by December 10th to get in time.
~Wendy